All-Natural, Plastic-Free Tinted Face Sunscreen (SFP-30)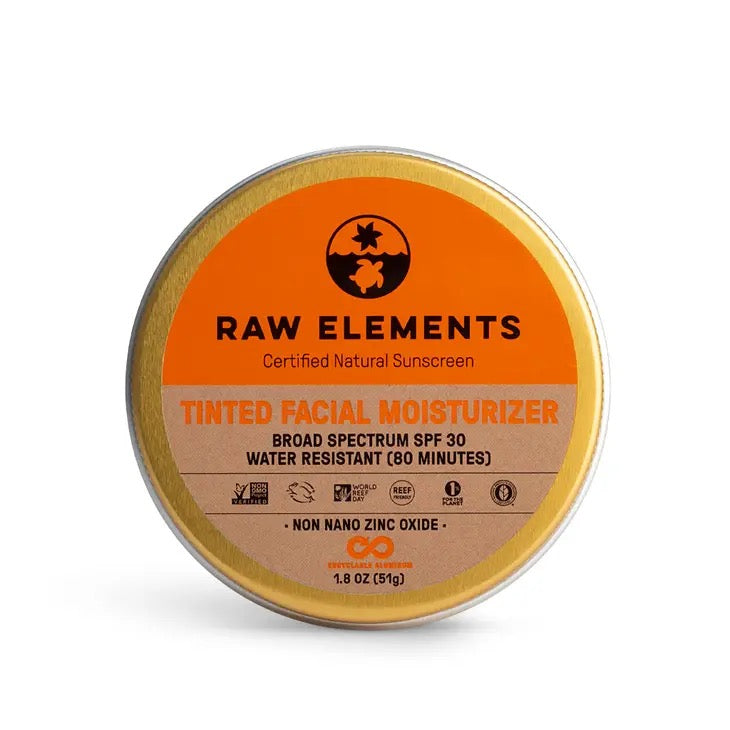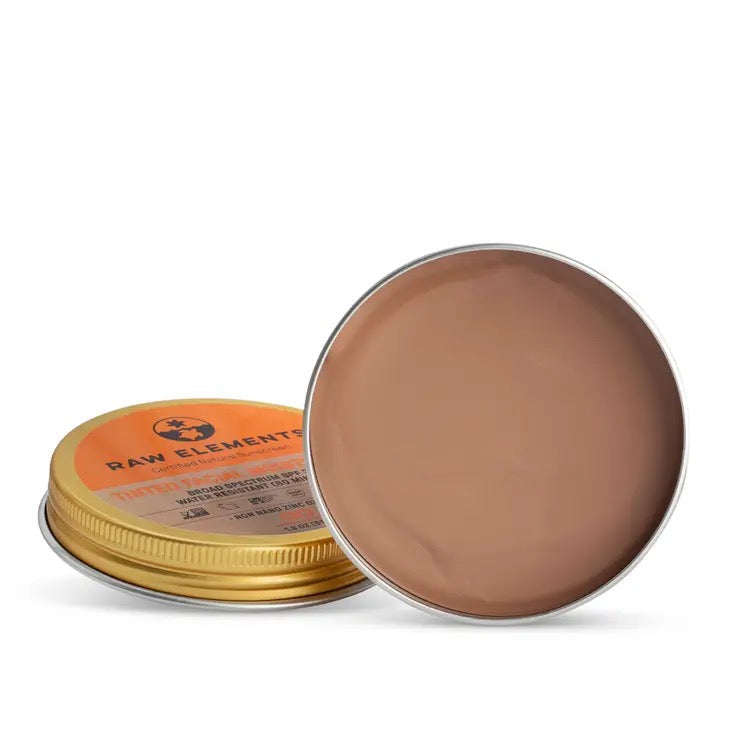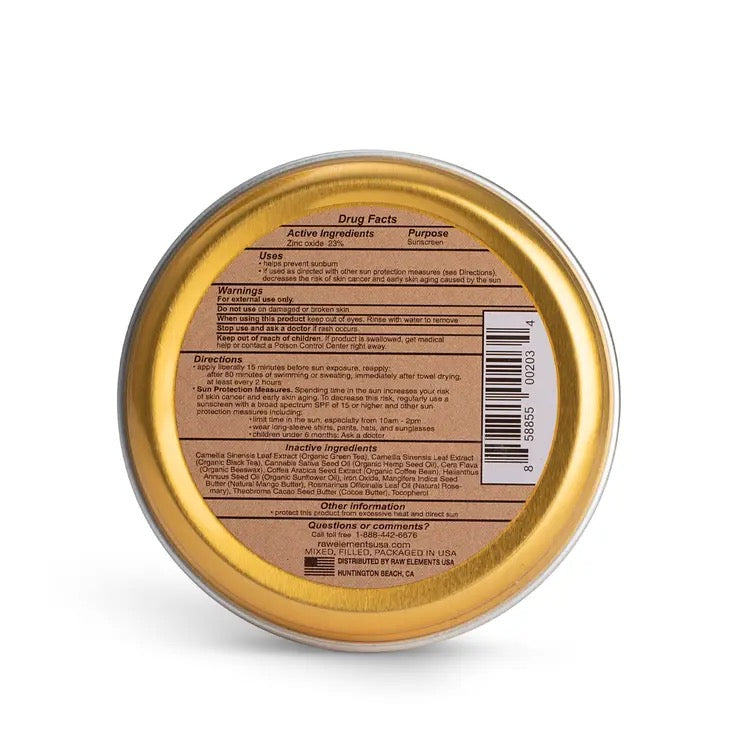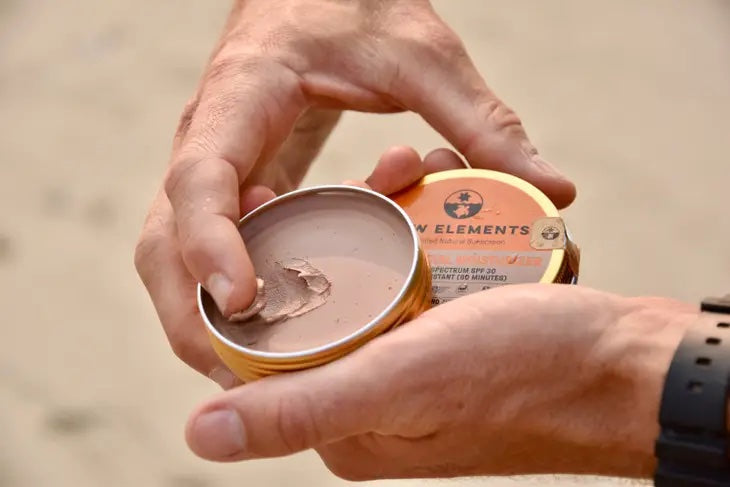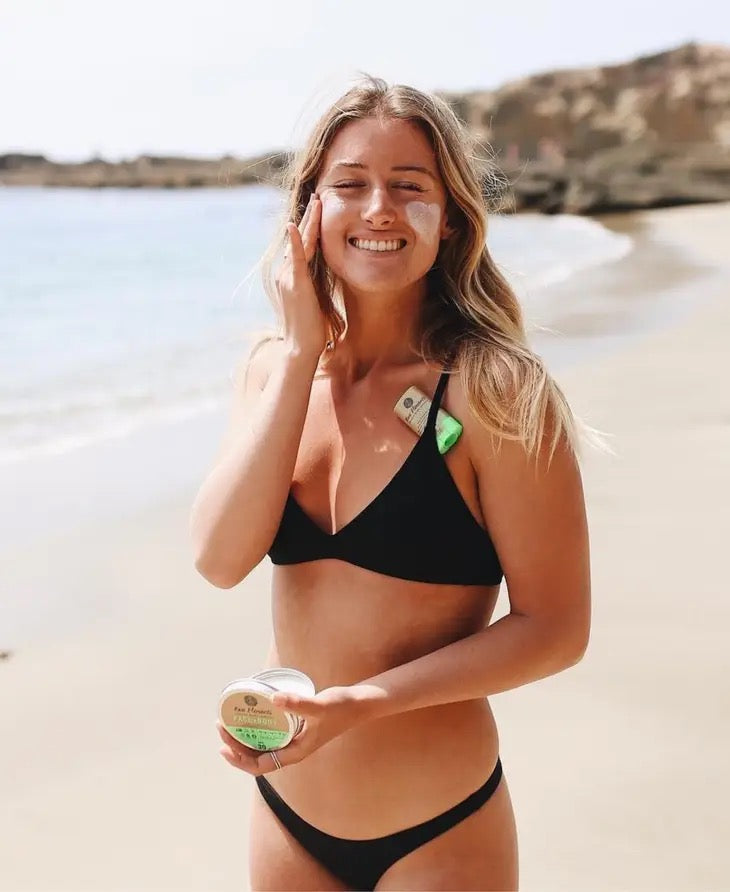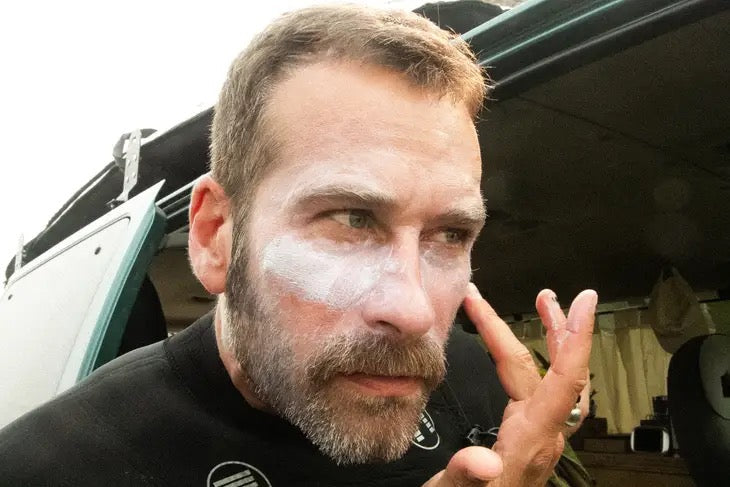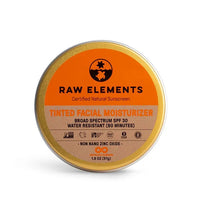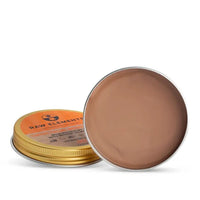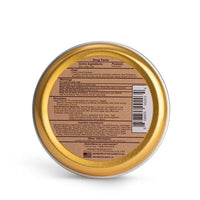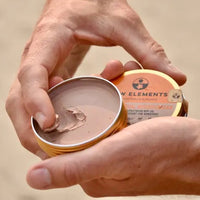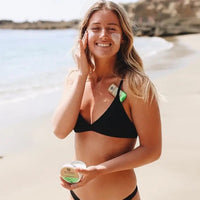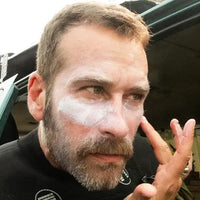 All-Natural, Plastic-Free Tinted Face Sunscreen (SFP-30)
Enjoy the same high performance and all-natural ingredients from Raw Elements' All-Natural, Plastic-Free Face Sunscreen, plus additional ultra-moisturizing properties and a slight medium-toned tint for a sun-kissed look. This is the perfect product to use as your daily face moisturizer whether hitting the beach, heading to work, or running errands. Packed with biologically active antioxidants, vitamins, minerals, and extracts, it continues protecting your skin long after environmental exposure. The aluminum tin can be recycled curbside.

Size: 1.8 oz / 51g
Product Highlights
Medium-toned tint

SPF 30+

Plastic-free packaging

Broad spectrum protection

Reef safe

Biodegradable


Safe for all ages

Never runs or stings eyes

Very water resistant (up to 80 minutes)

Soy, gluten and nut free
Active Ingredient: Non-Nano Zinc Oxide, Iron Oxides, Sunlfower Oil, Cocoa Butter, Vitamin E

Inactive Ingredients: Camellia Sinensis Leaf Extract (Organic Green Tea), Camellia Sinensis Leaf Extract (Organic Black Tea), Cannabis Sativa Seed Oil (Organic Hemp Seed Oil), Cera Flava (Organic Beeswax), Coffea Arabica Seed Extract (Organic Coffee Bean), Helianthus Annuus Seed Oil (Organic Sunflower Oil), Iron Oxides, Mangifera Indica Seed Butter (Natural Mango Butter), Rosmarinus Officinalis Leaf Oil (Natural Rosemary), Theobroma Cacao Seed Butter (Cocoa Butter), Tocopherol

* USDA Certified Organic
** Certified Natural
Apply liberally 15 minutes before sun exposure,
Reapply: After 80 minutes of swimming or sweating, immediately after towel drying, at least every 2 hours
Raw Elements USA® is a certified-natural, reef safe, environmentally-kind sunscreen company developed by Brian Guadagno, a 25+ year Ocean Rescue Lifeguard. While searching for a natural alternative to chemical sunscreens, Brian determined that one did not exist and felt a responsibility to find a solution. Raw Elements is the conscious consumer's answer for serious sun protection. The Raw Elements Mission is to deliver the safest, most effective sunscreen on the planet using all-natural ingredients. With sustainability as a pillar of the brand, Raw Elements pioneered the reef-safe movement, founded World Reef Day, and has plastic-free and fully compostable packaging options.
Backcountry Breakouts?
3 Simple Steps To Care for Your Skin
Originally published In Garage Grown Gear Magazine
The first time I attended PCT Days, I showed up with pimples and cystic acne all over my face. I was super self-conscious about how bad my skin looked and embarrassed to meet new people. Especially since I was representing my tiny start-up, Rawlogy. And I wasn't 18… I was 38.
Read More...
SUBSCRIBE TO OUR NEWSLETTER
Daily Self
No BS, practical self-care advice sent straight to your inbox. Created for professionals who prioritize personal growth and wellness in a busy world.
Subscribe Now
And get 10% OFF your Rawlogy order