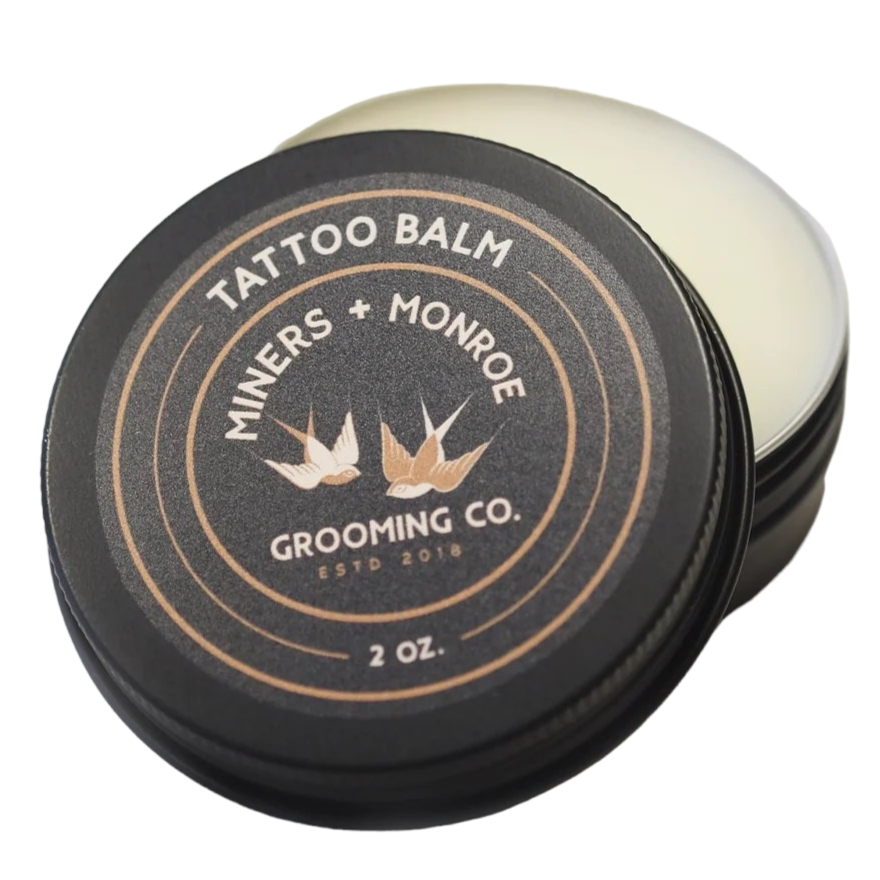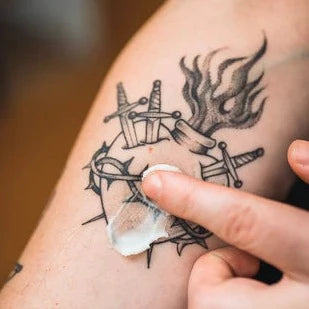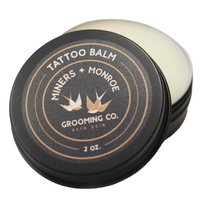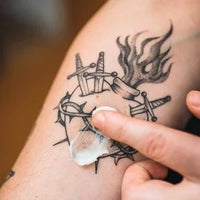 Experience the power of nature with Miners + Monroe's Tattoo Balm - a carefully formulated blend of all-natural ingredients that is free from petroleum-based products. This balm is infused with a unique blend of oils, butters, and nutrients that are well-known for their calming and restorative properties, helping to reduce swelling and irritation and promote proper healing for your new ink.
Caring for your tattoo is essential to maintain its appearance and longevity, and the Miners + Monroe Tattoo Balm is the perfect solution for keeping your ink looking vibrant and healthy for years to come. Each 2-ounce jar of this balm is meticulously hand-poured in small batches in Pittsburg, KS, ensuring that every jar is crafted with care and attention to detail.
It's important to note that a liquid Aloe is used in the production of this product, which may separate from the oils when applied. However, this is a natural occurrence and does not impact the quality or effectiveness of the balm.
With this all-natural, petroleum-free formula, you can rest, assured that your tattoo is receiving the best care possible, and will continue to look its best for years to come.
Shea Butter, Hemp Seed Oil, Sesame Seed Oil, All-Natural Beeswax, Pure Vitamin E, Aloe Vera Extract
Founded in 2018, Miners + Monroe Grooming Co. is a family-owned brand that offers timeless and classic products at accessible price points. Miners + Monroe curates products made with high-quality ingredients that serve a purpose and fit an aesthetic. Their blend of oils and butters cater to an array of hair and skin issues, from beards to dry skin. All of their apothecary items are crafted from all-natural, clean ingredients that are easy to use. The brand embodies a blue-collar mentality in all they do, crafting their apothecary items themselves at their shop located in Pittsburg, KS, a small rural town in SE Kansas.
SUBSCRIBE TO OUR NEWSLETTER
Daily Self
No BS, practical self-care advice sent straight to your inbox. Created for professionals who prioritize personal growth and wellness in a busy world.
Subscribe Now
And get 10% OFF your Rawlogy order